You can use a USB TV tuner to transfer VHS video tapes from a VCR to your computer very easily. Once the videos have been copied to your computer you can burn them to a DVD using a DVD burner. Even if you never burn them to a DVD it is still a good idea to transfer VHS tapes to a computer to preserve them. VHS tape quality degrades over time. DVD's have approximately a 100 year life expectancy.
You can convert VHS to DVD in a number of ways, including:
Transfer VHS tapes to a computer and then burn a DVD
Connect your VCR to a DVD recorder
Pay a service to do it for you

All of the above methods work just fine. The best choice depends on the equipment you already have, the number of VHS tapes you want to convert, how much editing you would like to do before recording them to DVD, your technical skills and your budget.
Transfer VHS tapes to a computer
Converting your VHS tapes to a computer file is by far the best option. Once the analog video has been converted to digital its is saved on the computer's hard drive as a video file (mpeg, avi,wmv, .mov). Now that the video is digital you can edit it to create a much better video. You can cut out boring parts (or parts where someone left the lens cap on the camcorder while filming), combine parts of different tapes into the same movie, add dates and titles (great for birthdays, vacations, etc.), improve the video and audio quality, add special effects and add music or other audio. When you are done editing you can keep the movie on your hard drive or burn a copy of it to a DVD.
There a number of free video editing software programs available that are easy to use and let you create a professional looking DVD with a menu to select scenes, add text, add photos, add music, etc. Windows Movie Maker comes free with Windows computers and iMovie comes with Apple computers. If you want to create spectacular professional quality DVD movies the top video editing software programs are Sony Vegas for Windows operating system and Final Cut for Mac.
Below is a video showing how to import and edit a video using Windows Movie Maker
Transferring the video to your computer can use a lot hard disc space, depending on the quality you record the the videos at. The highest quality can require up to 14GB or hard disc space per hour of video. If you plan to store a copy of the videos on your hard drive and you have a lot of movies you may want to consider adding an external hard drive. You can get a TB hard drive for close to $50 on Amazon.
VHS tapes are recorded in analog and must be converted to digital in order to be recorded on a computer or DVD. You can convert analog video to digital and transfer it to a computer in a number wasy.
Video cards
Many new video cards that have coaxial, composite (RCA), S-Video, component or hdmi inputs. If have a newer computer and or your video card with one of these inputs you can connect your VCR directly to your computer. The video card acts as the analog to digital converter. You can use video editing software to import the video from the VCR to your computer.
USB TV Tuner
Another reason why USB TV tuners are such a great gadget is that they are compatible with sources other than TV signals. They can be used as a video capture device to transfer your old VHS tapes to your computer. All USB tuners accept a coaxial inputs, many accept composite (RCA) cable inputs and some accept S-Video inputs. To transfer a VHS tape to a computer you connect either a coaxial (the wire that connects your TV or cable box to your cable jack, antenna or satellite dish), composite (the wire with red, white and yellow plugs) or S-Video cable from your VCR to the USB TV tuner which plugs into a USB port on your computer.
The USB TV tuner will convert the analog video from the VCR to digital. You will need a software program or video editing program to record the video on your hard drive.
Video capture devices
There are numerous video capture devices and video capture cards on the market. These are essentially the same as USB TV tuner but without the TV tuner technology. Most come with some video editing software and probably have better instructions for transferring VHS to DVD because that is all they are designed to do. However, the video editing software is much better than free editing software and they cost about the same as USB TV tuner.
If you want to transfer VHS tapes to DVD yourself but are intimidated by the process, a video capture device is a good option. One of the best is Easy VHS to DVD by Roxio. Roxio is a trusted brand and this product is very solid. You can read about other video capture devices at Amazon.
If you are going to buy video capture device and you have at least a little bit of computer knowledge you might as well get a USB TV tuner instead. When you are done transferring your VHS tapes to your computer you can use the tuner to watch and record TV on your computer. USB TV tuners are super easy to install and set up so why not turn your computer into an HDTV and a DVR.
Camcorders
If you have a digital camcorder you can use the camcorder to convert the analog video from a VCR to digital so it can be recorded on a computer. An analog camcorder won't work for this. Basically, you plug the VCR into the camcorder and then plug the camcorder into your computer. The video below does a pretty good job of explaining how to do it.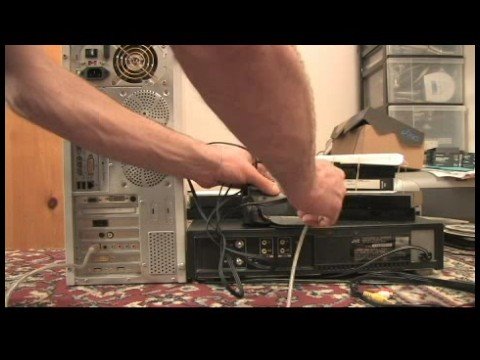 DVD recorders
If you already have a DVD recorder then you can use this method without having to purchase anything additional. Simply connect your VCR to your DVD recorder, push play on the VCR and record on the DVD player. The biggest drawback to this method is that what is on the VHS tape is exactly what gets recorded on the DVD. You can't create an index so you can choose the scene you want to start at, cut boring parts out, combine bits of several tapes into a montage, add still photos, improve the quality, add dates and titles, music or other audio, etc.
VHS to DVD services
There are many services out there that will convert VHS tapes to DVD for you. There are online services, local professional video editors and retailers like Costco and Walmart that will convert VHS videos to DVD. All of these services create a very professional product (most will even create a case with pictures, titles, etc. for the DVD) but they can get expensive if you have very many tapes to convert ($10 per tape).
If you want a customized DVD movie your best bet is to find a local video editor you can work with. This is especially helpful if you want to combine parts from several tapes into one movie, add a lot of special effects or enhance the audio or video.
iMemories will also convert film in various formats (8mm video, 8mm film, Hi8, Super 8, 16mm and MiniDV) to DVD as well as pictures, slides and negatives. They also offer online storage for your movies making it easy to share with others, they will record your videos on a USB stick drive or portable hard drive, they can produce professional music videos and can even repair damaged VHS tapes. They offer two levels of service. One where they convert your tapes to digital format and then you edit and create your own movies and one where they do all the work. Prices for self edited versions start at about $10 tape and $20 if they create the movie.
You can learn more at iMemories.com